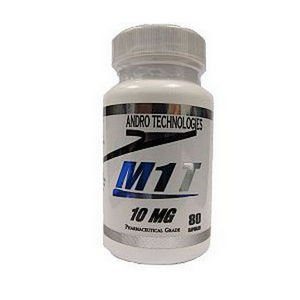 GP M1T PRICE
GP M1T PRICE,GP M1T is an oral steroid containing 10 mg of Methyl-1-Testosterone per tablet.Methyl-1-Testosterone, or 17aa-1-testosterone, is the methylated version of the steroid 1-testosterone.
This structural modification makes steroids much more orally bioavailable by inhibiting breakdown in the liver.
Although it has only been widely available for a short period of time,
feedback on GP M1T indicates that it may be the most effective legal prohormone/steroid product on the market regardless of delivery method, and it is hands down the most effective oral product.
On the other hand, most users report a wealth of side effects, and GP M1T is not to be taken lightly.
It does not have a long history of use or a well-established safety profile, and proper precautions should be taken.)
The structure of Methyl-1-Testosterone is similar to that of 1-test, it does not convert to estrogen, and it is highly anabolic and moderately androgenic (less than 1-test).
When compared to orally administered Methyltestosterone, GP M1T is 910-1600% as anabolic and 100-220% as androgenic.
If GP M1T is stacked, it would be best to stack it with something other than an oral steroid/prohormone,
such as a transdermal. Milk thistle, alpha lipoic acid, and N-acetyl-cysteine are commonly recommended to help protect the liver.)
When taking GP M1T, it is best to start out with at least a week at a dose of 5-10 mg to see how one reacts.
Many users find this range to be effective, while others feel the ideal amount is 20-40 mg.
It comes down to the experience, goals, and individual reaction. Many find a lower dose to be just as effective as a higher one, but with less side effects.
With a compound such as this, it is generally best to err on the side of caution, especially for those that are less experienced with steroids.
Most seem to find their ideal dose to be in the 10-30 mg range. Cycle length should be kept short, in the range of 1-4 weeks.
Finally, it is especially important to take adequate time off after each cycle with this substance to allow the body to recover.)
GP M1T PRICE
Side Effects
Nausea, vomiting, headache, skin color changes, increased/decreased sexual interest, oily skin, hair loss, and acne may occur. If any of these effects persist or worsen, tell your doctor or pharmacist promptly.
Remember that your doctor has prescribed this medication because he or she has judged that the benefit to you is greater than the risk of side effects.
Many people using this medication do not have serious side effects when it is used at normal doses.
Tell your doctor right away if you have any serious side effects, including: mental/mood changes (such as anxiety, depression, increased anger), trouble sleeping/snoring,
signs of serious liver disease (such as persistent abdominal pain/nausea, unusual tiredness, yellowing eyes/skin, dark urine), hands/ankles/feet swelling, unusual tiredness, fast/irregular heartbeat.
Get medical help right away if you have any very serious side effects, including:
shortness of breath/rapid breathing, chest/jaw/left arm pain, unusual sweating, confusion, sudden dizziness/fainting, pain/swelling/warmth in the groin/calf, sudden/severe headaches, trouble speaking, weakness on one side of the body, sudden vision changes.
If you are male, tell your doctor right away if you have any serious side effects, including: trouble urinating, breast swelling/tenderness, too frequent/prolonged erections.
Precautions
Before using methyltestosterone, tell your doctor or pharmacist if you are allergic to it; or if you have any other allergies. This product may contain inactive ingredients, which can cause allergic reactions or other problems.
Talk to your pharmacist for more details.
Before using this medication, tell your doctor or pharmacist your medical history, especially of: cancer (such as breast cancer in men, prostate cancer), blood clots (such as in the leg, lungs), heart disease (such as heart failure, chest pain, heart attack), stroke, liver problems, kidney problems, certain mineral imbalance (high calcium blood level), high cholesterol, high blood pressure, enlarged prostate, breathing problems (such as sleep apnea, chronic obstructive pulmonary disease-COPD), diabetes.
If you have diabetes, this product may lower your blood sugar. Check your blood sugar regularly as directed and share the results with your doctor.
Tell your doctor right away if you have symptoms of low blood sugar, such as sudden sweating, shaking, fast heartbeat, hunger, blurred vision, dizziness, or tingling hands/feet. Your doctor may need to adjust your diabetes medication, exercise program, or diet.
This drug may affect your cholesterol and may increase your risk of heart or blood vessel problems (coronary artery disease). Your doctor will monitor your cholesterol level closely.
Tell your doctor if you become bed-ridden (unable to walk) for a prolonged time while using this medication. Your doctor may monitor your blood calcium level to prevent problems.
Before having surgery, tell your doctor or dentist about all the products you use (including prescription drugs, nonprescription drugs, and herbal products).
Older adults may be more sensitive to the side effects of this drug, especially prostate/liver problems, swelling of arms/legs.
Caution is advised when using this drug in children because bone growth may be affected, causing shorter adult height. Your child's doctor will monitor growth and bone development during treatment.
This medication must not be used during pregnancy. It may harm an unborn baby. Discuss the use of reliable forms of birth control (such as condoms, birth control pills) with your doctor.
If you become pregnant or think you may be pregnant, tell your doctor right away.
It is unknown if this drug passes into breast milk. It may affect milk production and it may harm a nursing infant. Breast-feeding while using this drug is not recommended.
Consult your doctor before breast-feeding.